Show results for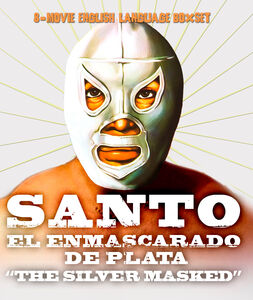 Four-disc set includes:
Santo In The Wax Museum (1973)
As women go missing in the vicinity of a waxworks, seemingly concerned proprietor Dr. Karol turns to legendary luchador El Santo to investigate. It turns out that the "good" doctor is the scarred perpetrator--and he's turnng the abductees into his latest exhibits. Can even Santo defeat his monstrous figures come to life? Claudio Brook, Norma Mora, Rubén Rojo also star. 92 min. Dubbed in English. BW/Rtg: NR
Santo In The Treasure Of Dracula (1969)
Pro wrestler/crimefighter El Santo adds inventor to his resumé, building a time machine that allows his girlfriend to travel back and fall under the thrall of the bloodsucking Count Alucard (get it?). When the Count reveals in the past that he possesses a priceless treasure, a present-day battle for it ensues between Santo, the villainous Black Hood, and the revived vampire. Aldo Monti, Noëlla Noel co-star. 81 min. Dubbed in English. BW&C/Rtg: NR
Santo vs. The Riders Of Terror (1970)
An odd mix of adventure, sagebrusher, and human interest drama, this paella-of-a-picture tells of a group of lepers who escape from a sanatorium and seek refuge near a frontier town. A local crook offers the lepers food and water for their help in a series of robberies. Teaming up with a lawman to stop them is that silver-masked do-gooder, El Santo. With Armando Silvestre, Julio Aidama. 90 min. Dubbed in English. C/Rtg: NR
Santo In The Vengeance Of The Mummy (1971)
After making short work of his opponents in the ring, masked wrestler Santo joins an archeological team exploring ancient Mexican ruins. The group finds the mummified remains of an Indian warrior named Nonoc, and soon Nonoc is playing knock-knock on the doors of its tomb, alive and ready to kill Santo and his pals. With Eric del Castillo and Santo's son El Hijo del Santo (billed as Niño Jorgito) as a native lad. 87 min. Dubbed in English. C/Rtg: NR
Santo vs. Frankenstein's Daughter (1972)
The diabolical Dr. Freda Frankenstein needs special blood for her youth serum, so she dispenses a man-beast named Ursus to get luchador El Santo to donate to the cause. The masked Mexican is captured and taken to the House of Frankenstein, where he must figure out a way to defeat the not-so-good doctor and her monstrous minions. Gina Romand, Gerardo Zepeda also star. 97 min. Dubbed in English. C/Rtg: NR
Santo And Blue Demon vs. Dracula And The Wolf Man (1973)
Centuries after he was seemingly destroyed, the infamous Count Dracula returns from the grave, accompanied by a werewolf sidekick, and seeks a horrific revenge on the descendants of the man who "killed" him. Luckily, Mexican wrestling superstars Santo (silver mask) and Blue Demon (blue mask) are ready to team up and stop the diabolical duo in their undead tracks. Aldo Monti, Nubia Martí co-star. 90 min. Dubbed in English. C/Rtg: NR
Santo And Blue Demon vs. Dr. Frankenstein (1974)
The mad Dr. Frankenstein--Dr. Irving Frankenstein, that is--plans to use lovely Alicia as the next subject for his brain-transplant experiments to bring his late wife back to life. Luckily, Alicia knows the heroes El Santo and Blue Demon, who take a time out from the wrestling ring to battle the deranged doc and his zombie servant, Golem. With Jorge Russek, Sasha Montenegro. 95 min. Dubbed in English. C/Rtg: NR
Santo And Mantequilla In The Revenge Of La Llorona (1970)
Everyone's favorite monster-fighting pro wrestler, El Santo, helps a professor and his lovely niece search for a long-hidden treasure that will be used to aid local children. The treasure, however, is linked to the spirit of a Colonial noblewoman who made a deal with the Devil and now comes back to life as La Llorona (the Crying Woman). Helping Santo in his quest is Cuban boxer José "Mantequilla" Nápoles. 87 min. Dubbed in English. BW&C/Rtg: NR
Standard; Soundtrack: English (dubbed); featurettes; image gallery.
| | |
| --- | --- |
| Item #: | 2439519X |
| UPC #: | 089859956522 |
| | |
| --- | --- |
| Attributes: | Boxed Set |
| Product Type: | Blu-ray |
| | |
| --- | --- |
| Street Date: | 2/8/2022 |
| Original Language: | ENG |
| Run Time: | 709 minutes |