Show results for
One Day University: The Science of Sleep and Stress: How They Affect Creativity, Focus and Memory
(2021)
Format:

DVD
Genre:
Special Interest-Documentary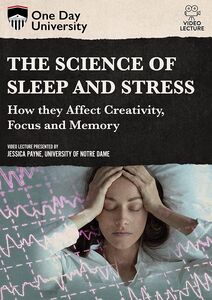 One Day University: The Science of Sleep and Stress: How They Affect Creativity, Focus and Memory
(2021)
Format:

DVD
Genre:
Special Interest-Documentary
One Day University presents a series of video lectures recorded in real-time from some of the top minds in the United States. Given by award-winning professors and experts in their field, these recorded lectures dive deep into the worlds of religion, government, literature, and social justice. The research of Notre Dame Professor Jessica Payne shows that the non-waking hours are incredibly valuable for your day-to-day life, especially for helping to commit information to memory and for problem-solving. If you ever thought sleep was just downtime between one task and the next, think again. The fact is, your brain pulls an all-nighter when you hit the hay. Many regions of the brain-especially those involved in learning, processing information, and emotion-are actually more active during sleep than when you're awake. These regions are working together while you sleep, helping you process and sort information you've taken in during the course of the day. Professor Payne's research has focused on what types of information are submitted to memory and has been instrumental in better understanding how the brain stores the information. Sound interesting? It is. And useful too, as Professor Payne will outline all sorts of practical information on how to control your sleep habits to ensure maximum productivity.
| | |
| --- | --- |
| Item #: | 2414633X |
| UPC #: | 810071440335 |
| | |
| --- | --- |
| Product Type: | DVD |
| Rating: | 13+ |
| | |
| --- | --- |
| Street Date: | 9/7/2021 |
| Original Language: | ENG |
| Run Time: | 55 minutes |