Show results for
Smart Travels Europe With Rudy Maxa: Germany's Romantic Road / Rhine AndMosel Rivers / Prague and Bu
(2004)
Format:

DVD
Genre:
Special Interest-Travel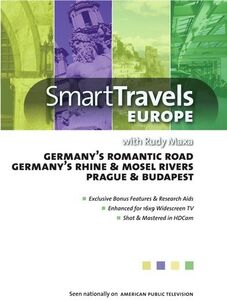 Smart Travels Europe With Rudy Maxa: Germany's Romantic Road / Rhine AndMosel Rivers / Prague and Bu
(2004)
Format:

DVD
Genre:
Special Interest-Travel
Tweet
Three episodes plus bonus clips: Germanys Romantic Road: We start in Wurzburg at the Baroque Bishops Palace and a wine festival. Next an auto museum in a Renaissance Castle. In Dinkelsbuhl we celebrate the day the children saved the town with music and historic re-enactments, then finish in Rothenburg, Germanys best-preserved medieval-walled city. Rhine and Mosel Rivers: After a visit to the ancient Roman city of Trier we head up the Mosel River to vineyards and medieval fortresses. Then cruise down the Rhine past castles and the beautiful but dangerous Lorelei. At Remagen, we see where American troops crossed the Rhine in WWII. And we conclude this visit in Cologne with a modern art museum and local beer. Rudy leaves Western Europe behind on a trip to Prague and Budapest. In Prague he marvels at the old town and tours the labyrinthine castle. Bohemian glass dazzles in this former Communist country and we witness the scene of the Velvet Revolution. Then it's off to Budapest for mineral spas, gypsy music and Hungarian dancers. Rudy rounds out his trip at the regal Opera House and checking-out monuments of a bygone era in the Communist Statue Park.
| | |
| --- | --- |
| Item #: | 1920970X |
| UPC #: | 008138011639 |
| | |
| --- | --- |
| Attributes: | Manufactured on Demand, Widescreen, NTSC Format |
| Product Type: | DVD |
| Rating: | TVG |
Street Date:
6/27/2017
Original Language:
ENG
Run Time:
100 minutes
This product is a special order