Show results for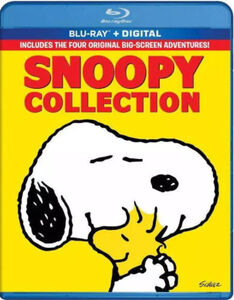 Four-disc set includes:
A Boy Named Charlie Brown (1970)
The first full-length "Peanuts" cartoon finds Charlie Brown a winner for the first time in his life. A victory in the school spelling bee sends Charlie, along with Linus and Snoopy, off to New York for the national championship. Follow their exciting and hilarious escapades. Voiced by Peter Robbins (in his final performance as Charlie Brown), Pamelyn Ferdin, Glenn Gilger, Andy Pforsich, Sally Dryer, and Bill Melendez as Snoopy. 86 min. C/Rtg: G
Snoopy, Come Home (1970)
Call the police! Call the FBI! Call the Red Baron! Snoopy has run away from home, and he's taken his bird buddy, Woodstock, with him. You'll laugh and thrill to the duo's adventures, and Charlie Brown and Linus' attempts to find them, in this animated feature. Features the voice talents of Chad Webber, Robin Kohn, Stephen Shea, David Carey, and director Bill Melendez. 80 min. C/Rtg: G
Race For Your Life, Charlie Brown (1977)
It's anything but a vacation for the "Peanuts" kids when they go to summer camp and are challenged by a gang of bullies to a danger-filled raft race. This third theatrical cartoon romp featuring the beloved Charles M. Schulz characters finds Charlie Brown, Lucy, Linus, Snoopy, Woodstock, and the rest of the gang braving dangerous rapids, wild animals, and threats to their self-esteem. Voiced by Duncan Watson, Bill Melendez, Gail Davis, Melanie Kohn. 76 min. C/Rtg: G
Bon Voyage, Charlie Brown (And Don't Come Back!!) (1980)
Thanks to an exchange student program, Charlie Brown, Linus, Peppermint Patty, and Marcie (along with stowaways Snoopy and Woodstock) take off across the Atlantic for a fun-filled adventure in France. There they find a secret reaching back to World War II and Charlie Brown's grandfather, in this exciting feature-length animated Peanuts tale. Voiced by Arrin Skelley, Daniel Anderson, Patricia Patts, Casey Carlson, and Bill Melendez as Snoopy. 75 min. C/Rtg: G
Widescreen; Soundtracks: English Dolby Digital mono, French Dolby Digital mono; Subtitles: English, French; featurette; theatrical trailer.
| | |
| --- | --- |
| Street Date: | 5/18/2021 |
| Dubbed: | FRE |
| Original Language: | ENG |
| Run Time: | 317 minutes |