Show results for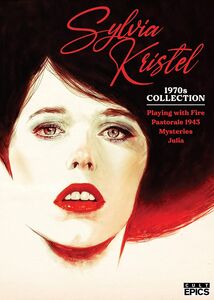 Four-disc set includes:
Julia (1974)
Teenager Pauli (Ekkehardt Belle) was eager to spend his school break on holiday with his family...and even more eager to lose his virginity. Will that honor go to his father's sexy young mistress (Teri Tordai), the buxom family maid (Christine Glasner), or his childhood friend who blossomed into the beautiful Julia (Sylvia Kristel)? Kristel's sensual follow-up project after "Emmanuelle" also stars Jean-Claude Bouillon, Gisela Hahn, Dominique Delpierre. 83 min. In German with English subtitles/Dubbed in English. C/Rtg: R
Playing With Fire (Le Jeu Avec Le Feu) (1975)
With his shady finances about to collapse, banker Georges de Saxe (Philippe Noiret) connived to fake the kidnapping of his teenage daughter Carolina (Anicée Alvina) with an eye toward pocketing the ransom. As seedy investigator Franz (Jean-Louis Trintignant) spirits the girl away for safekeeping to an Art Noveau brothel favored by her father, there may be a double-cross to cap the kinky goings-on. Alain Robbe-Grillet's slice of sensual surrealism also stars Sylvia Kristel, Christine Boisson. 112 min. In French with English subtitles/Dubbed in English. C/Rtg: NR
Pastorale 1943 (1978)
In a village of the occupied Netherlands, teacher Johan Schults (Frederik de Groot) was already pushing his luck with his participation in the Resistance. When he makes the choice of targeting a collaborationist for assassination, the clumsiness of the cabal he organized may cause his fortune to run out. Acclaimed take on the Simon Vestdijk novel also stars Rutger Hauer, Sylvia Kristel, Bernhard Droog and, in her screen debut, Renée Soutendijk. 125 min. In Dutch with English subtitles/Dubbed in English. C/Rtg: NR
Mysteries (1978)
This adaptation of the Knut Hamsun novel set at the close of the 19th century stars Rutger Hauer as Johan Nagel, a wandering stranger who comes to stay at a small coastal town on the Isle of Man, befriending a diminutive outcast (David Rappaport), while earning the ire of others for that friendship. The visitor also woos the lovely Dany Kielland (Sylvia Kristel), who appears spitefully resistant to his charms. Sensual drama from the Netherlands co-stars Rita Tushingham, Kees Brusse. 88 min. In Dutch with English subtitles/Dubbed in English. C/Rtg: NR
Widescreen; Soundtracks: German, French, Dutch, English; Subtitles: English; audio commentary; featurettes; theatrical trailers.
| | |
| --- | --- |
| Studio: | Cult Epics |
| Number of Discs: | 4 |
| Release Date: | 1/11/2022 |
| | |
| --- | --- |
| Item #: | 2453979X |
| UPC #: | 881190018996 |
| | |
| --- | --- |
| Attributes: | Limited Edition, 4 Pack |
| Product Type: | DVD |
| Rating: | NR |
| Subtitles: | ENG |
| | |
| --- | --- |
| Street Date: | 1/11/2022 |
| Original Language: | DUT, ENG, FRE, GER |
| Run Time: | 429 minutes |