Show results for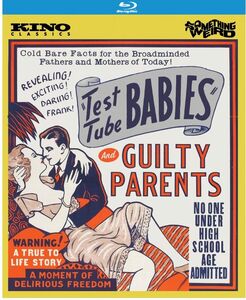 Includes:
Guilty Parents (1934)
A roadshow classic from the 1930s detailing pretty blonde Helen Mason's (Jean Lacy) descent into a world of cheap sex, and the drunken roadhouse parties, crimes, abortions, murders, and strip poker games that occur when she is ruled by the iron fist of a Puritanical mother...and proper sexual education is denied. Isabel La Mal, John St. Polis, Lynton Brent, and Gertrude Astor star. BW/Rtg: NR
Test Tube Babies (1948)
Test tube babies, test tube babies, it is so Utopian. Test tube babies, test tube babies, we are not Fallopian. Married couple Cathy (Dorothy Duke) and George Bennett (William Thomason) seem to think the way to curb Cathy's wild ways is to bring a child into the world. Unfortunately, George is sterile, so they turn to the shocking, new (for 1948) technology of artificial insemination. Sexploitation roadshow gem--with nudity!-- co-stars John Michael, Timothy Farrell; from the director of "Ding Dong Night at the Moulin Rouge." 70 min. BW/Rtg: NR
Standard; Soundtrack: English; audio commentary; bonus short "Sex and Romance" (1951); theatrical trailers.
| | |
| --- | --- |
| Item #: | 2320196X |
| UPC #: | 738329251376 |
| | |
| --- | --- |
| Product Type: | Blu-ray |
| Rating: | NR |
| Subtitles: | ENG |
| | |
| --- | --- |
| Street Date: | 10/13/2020 |
| Original Language: | ENG |