Show results for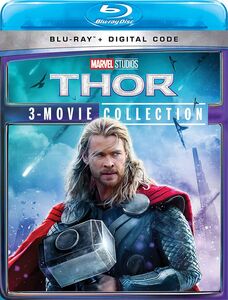 Three-disc set includes:
Thor (2011)
Marvel Comics' God of Thunder hammers his way onto the silver screen in director Kenneth Branagh's action-packed epic. Banished from the realm of Asgard and exiled to a mortal life on Earth, Thor (Chris Hemsworth) attempts to reclaim his powers--and magical hammer Mjölnir--in an effort to return home and foil the sinister machinations of evil adoptive brother Loki (Tom Hiddleston). With Natalie Portman, Stellan Skarsgård, Kat Dennings, Clark Gregg, and Anthony Hopkins as Odin. 114 min. C/Rtg: PG-13
Thor: The Dark World (2013)
When the universe is threatened by an ancient race led by the ruthless Malekith (Christopher Eccleston), Thor (Chris Hemsworth) embarks on a mission to stop him. Reuniting with would-be love Jane Foster (Natalie Portman) and his evil brother Loki (Tom Hiddleston) in order to defeat Malekith, Thor risks losing everything as he attempts to save Earth and Asgard. With Kat Dennings, Idris Elba, Jaimie Alexander. 112 min. C/Rtg: PG-13
Thor: Ragnarok (2017)
In his quest to find his vanished father Odin (Anthony Hopkins) with the coerced aid of treacherous brother Loki (Tom Hiddleston), Thor (Chris Hemsworth) finds himself waylaid in space and conscripted into the gladiatorial pens of the Grandmaster (Jeff Goldblum). Even if he survives an arena confrontation with old frenemy Hulk (Mark Ruffalo), can he halt Asgard's foretold destruction at the hands of his half-sister Hela (Cate Blanchett)? Action-packed, laugh-leavened Marvel entry co-stars Tessa Thompson, Idris Elba, Karl Urban. 130 min. C/Rtg: PG-13
Widescreen; Soundtrack: English.
| | |
| --- | --- |
| Item #: | 2405834X |
| UPC #: | 786936873863 |
| | |
| --- | --- |
| Attributes: | Digital Theater System, Dolby, AC-3, 3 Pack |
| Product Type: | Blu-ray |
| Rating: | PG13 |
| Subtitles: | ENG, FRE, POR, SPA |
| | |
| --- | --- |
| Street Date: | 7/13/2021 |
| Dubbed: | FRE, SPA |
| Original Language: | ENG |