Show results for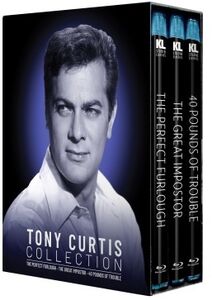 Three-disc set includes:
The Perfect Furlough (1958)
As part of a morale-building experiment by Army psychologist Lt. Vicki Loren (Janet Leigh), Arctic-stationed G.I. Cpl. Paul Hodges (Tony Curtis) wins a three-week trip to Paris and a beautiful movie star (Linda Cristal) as an escort. Things don't go as planned, however, as Vicki and Paul wind up falling for each other, in this breezy romantic comedy directed by Blake Edwards. With Keenan Wynn, Elaine Stritch. 94 min. C/Rtg: NR
The Great Impostor (1961)
We've all had life-changing experiences, but probably not to the extent of Ferdinand W. DeMara (Tony Curtis), the colorful hoaxer who employed a photographic memory and good old-fashioned brass to reinvent himself as a ship's surgeon, a prison warden, an attorney, a Trappist monk, and a school teacher, among other poses. Seriocomic account of DeMara's real-life escapades co-stars Edmond O'Brien, Arthur O'Connell, Karl Malden, Raymond Massey. 112 min. BW/Rtg: NR
40 Pounds Of Trouble (1963)
Winning comedy, based on Damon Runyon's "Little Miss Marker," stars Tony Curtis as gruff Lake Tahoe nightclub manager Steve McCluskey. Steve's hard heart begins to soften when he meets 8-year-old orphan girl Penny Piper (Claire Wilcox), who plays matchmaker for him and a gorgeous singer (Suzanne Pleshette). Highlighted by a whirlwind chase through Disneyland, the film was Norman Jewison's directorial debut; with Larry Storch, Phil Silvers. 106 min. C/Rtg: NR
Standard and Widescreen; Soundtrack: English; Subtitles: English; audio commentary; theatrical trailers.
| | |
| --- | --- |
| Item #: | 2302711X |
| UPC #: | 738329249182 |
| | |
| --- | --- |
| Attributes: | 3 Pack |
| Product Type: | Blu-ray |
| Rating: | NR |
| Subtitles: | ENG |
| | |
| --- | --- |
| Street Date: | 8/4/2020 |
| Original Language: | ENG |
| Run Time: | 312 minutes |