Show results for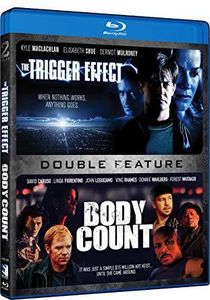 Includes:
The Trigger Effect (1996)
Edgy thriller about the night an unexpected electrical surge takes out all power and communication across the Western United States, and how the residents of one suburban neighborhood find their anxieties running rampant and normal ways of behaving breaking down. Kyle MacLachlan, Elisabeth Shue, Dermot Mulroney star in this suspenser written and directed by "Mission: Impossible" scripter David Koepp. 95 min. C/Rtg: R
Body Count (1998)
The schemes of an art heist gang to jack millions' worth of paintings from a Boston art museum go awry when one of the crooks is slain during the getaway...and as the rest head on a tense road trip to rendezvous with their buyer in Miami, their explosive mutual resentments might prove that the job isn't done claiming casualties. Well-played crime thriller stars David Caruso, Ving Rhames, Forest Whitaker, John Leguizamo, Donnie Wahlberg, and Linda Fiorentino. 85 min. C/Rtg: R
Widescreen; Soundtrack: English; Subtitles: English (SDH).
| | |
| --- | --- |
| Item #: | 2162062X |
| UPC #: | 683904634023 |