Show results for
Twisting the Knife: Four Films by Claude Chabrol
(1997)
Format:

Blu-ray
Genre:

Drama, Foreign-French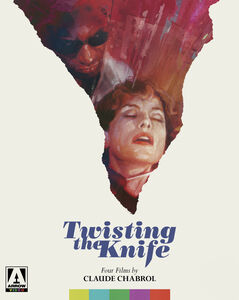 Twisting the Knife: Four Films by Claude Chabrol
(1997)
Format:

Blu-ray
Genre:

Drama, Foreign-French
Four-disc set includes:
The Swindle (1997)
A stylish tale of romantic deceptions and elaborate cons, director Claude Chabrol's 50th film stars Isabelle Huppert and Michel Serrault as a team of French scam artists. The pair's relationship--business and personal--may be threatened by their latest scheme, in which she attaches herself to the money courier for a crime syndicate, but who is betraying whom? With Francois Cluzet, Jean-Francois Balmer. 105 min. In French with English subtitles. C/Rtg: NR
The Color Of Lies (1999)
The discovery of a 10-year-old girl's body in a quiet French coastal village leads to a local painter who gives art lessons to children becoming the primary suspect in the girl's assault and murder. As the townspeople eye the artist with suspicion, his devoted wife starts to question his innocence and begins an affair with a TV journalist. Director Claude Chabrol's engrossing whodunit stars Jacques Gamblin, Sandrine Bonnaire, Valeria Bruni Tedeschi. 103 min. In French with English subtitles. C/Rtg: NR
Nightcap (2000)
Tasty tale of familial intrigue and secrets from Claude Chabrol stars Isabelle Huppert as Mika, a Swiss chocolate company owner who remarries her first husband, widower pianist André (Jacques Dutronc), and moves him and her teenage stepson into her family's gloomy mansion. Their already off-kilter homelife is complicated by the arrival of a young woman who seeks piano lessons from André and may be his switched-at-birth daughter. With Anna Mouglalis, Rodolphe Pauly. 101 min. In French with English subtitles. C/Rtg: NR
The Flower Of Evil (2003)
In his 50th film, director Claude Chabrol focuses on a French family that appears reputable on the surface but has many hidden skeletons in its closet. Among its members are married couple Anne (Nathalie Baye) and Gerard (Bernard Le Coq), whose former spouses died in a mysterious car accident; Michele (Mélanie Doutey), Anne's daughter, who is in love with her stepbrother Francois (Benoît Magimel); and Line (Suzanne Flon), Anne's aunt, whose past includes links to a Nazi collaborator. 101 min. In French with English subtitles. C/Rtg: R
Widescreen; Soundtrack: French; Subtitles: English; audio commentary; featurettes; image galleries; theatrical trailers. In French with English subtitles.
| | |
| --- | --- |
| Item #: | 2471479X |
| UPC #: | 760137101130 |
| | |
| --- | --- |
| Street Date: | 4/26/2022 |
| Original Language: | FRE |