Show results for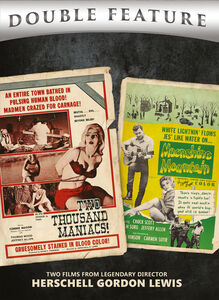 Includes:
Two Thousand Maniacs! (1964)
What do you get when you mix "The Beverly Hillbillies" with "Brigadoon" and toss in oodles of blood, gore, and violence? You get Herschell Gordon Lewis' sordid tale of Southern townsfolk massacred at the end of the Civil War who come back to life to torture six unwary Yankee tourists. Second entry in the director's "Blood Trilogy" stars Playboy centerfold Connie Mason, William Kerwin, Jeffrey Allen, Shelby Livingston. Y'all come back now, y'hear? 83 min. C/Rtg: NR
Moonshine Mountain (1964)
Wild, still-swiggin' hillbilly flick from H.G. centers on a successful country music star who returns to his beloved Carolina hills only to be pulled into the middle of a backwoods world full of feuding rednecks with an illegal alcohol still. He eventually gets caught up in a harrowing war with the town's corrupt sheriff who rapes his girlfriend. Chuck Scott, Bonnie Hinson star. AKA: "White Trash on Moonshine Mountain." 90 min. C/Rtg: NR
Standard/Widescreen; Soundtrack: English.
| | |
| --- | --- |
| Item #: | 2342325X |
| UPC #: | 760137409588 |
| | |
| --- | --- |
| Product Type: | DVD |
| Rating: | 18+ |
| | |
| --- | --- |
| Street Date: | 10/27/2020 |
| Run Time: | 168 minutes |