Show results for
Universal Horror Collection: Volume 6
Format:

Blu-ray
Genre:
Horror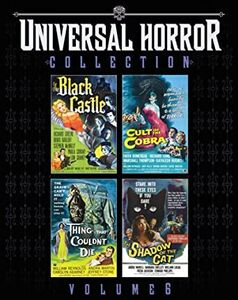 Four-disc set includes:
The Black Castle (1952)
A creepy gothic tale set in the 18th century and involving an Austrian count who kills humans for his own pleasure. An English aristocrat learns that two of his friends died at the hands of the count and now seeks revenge. Boris Karloff, Stephan McNally, Richard Greene and Lon Chaney, Jr. star. 82 min. BW/Rtg: NR
Cult Of The Cobra (1955)
A group of American G.I.s in the Far East stumbles upon the secret rituals of a snake-worshipping native cult. The head priestess follows the men back to the States and, using her power to transform herself into a cobra, begins killing them one by one. Slithery shocker stars Faith Domergue, Richard Long, David Janssen, Marshall Thompson. 82 min. BW/Rtg: NR
The Thing That Couldn't Die (1958)
While water dowsing on her family's ranch, a young woman with psychic powers finds a chest containing the severed head of an executed 16th-century Satanist. The horrific head is still alive (you guessed that from the title, didn't you?) and uses its supernatural powers to force the ranch's residents to locate its body. William Reynolds, Andra Martin, and Robin Hughes as "the head of Gideon Drew" star. 69 min. BW/Rtg: NR
The Shadow Of The Cat (1961)
Walter Venable's (André Morell) scheme to have his wealthy wife Ella (Catherine Lacey) murdered so he can get his hands on her money went off without a hitch. Or did it? Ella's cat, Tabitha, not only witnessed the crime but also understands it, and now Walter and his accomplices plot to eliminate the feline. But it appears Tabitha has her own plans for grisly vengeance. Offbeat British horror tale also stars Barbara Shelley, William Lucas. 79 min.
Standard/Widescreen; Soundtrack: English DTS HD mono Master Audio; Subtitles: English.
| | |
| --- | --- |
| Item #: | 2302460X |
| UPC #: | 826663209617 |
| | |
| --- | --- |
| Attributes: | Boxed Set, Widescreen, Digital Theater System, Mono Sound |
| Product Type: | Blu-ray |
| Rating: | NR |
| Subtitles: | ENG |
| | |
| --- | --- |
| Street Date: | 8/25/2020 |
| Original Language: | ENG |
| Run Time: | 312 minutes |