Show results for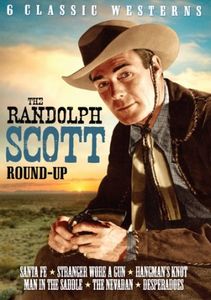 Two-disc set includes:
The Desperadoes (1943)
Columbia Pictures' first color production was this fine western starring Randolph Scott as a Utah lawman who helps outlaw pal Glenn Ford go straight. When a local bank is robbed, Ford is the suspect, but Scott believes others are involved and must find the true criminals. With Evelyn Keyes, Edgar Buchanan, and Claire Trevor. 86 min. C/Rtg: NR
Santa Fe (1951)
After the Civil War ends, Confederate soldier Randolph Scott and his three brothers seek their fortunes in the West, but when Scott gets a job with the Santa Fe railroad and his siblings fall in with crooks planning a train heist, a showdown is unavoidable. Top-notch actioner also stars Janis Carter, Roy Roberts, Jerome Courtland, Jock Mahoney. 87 min. C/Rtg: NR
Man In The Saddle (1951)
Unusual Western tale looks at jealousy and adultery in a sagebrush saga framework. Randolph Scott plays a cowpoke caught between two women and the ruthless rancher who wants him done in. Joan Leslie, Ellen Drew, and Alexander Knox co-star. 87 min. C/Rtg: NR
Hangman's Knot (1952)
Confederate officer Major Matt Stewart (Randolph Scott) leads a Rebel regiment raid on a shipment of Yankee gold in Nevada. Unbeknownst to Stewart, the Civil War ended a month previous, and, now, with the threat of prosecution dangling over their heads, the men try to hightail it to safety before the title hitch finds their necks. Knockout adventure co-stars Donna Reed, Lee Marvin, Claude Jarman, Jr. 81 min. C/Rtg: NR
The Stranger Wore A Gun (1953)
Randolph Scott heads to Arizona after a stint with Quantrill's Raiders during the Civil War and is enlisted by another former Raider who once saved his life and now hijacks stagecoach gold shipments. Will Scott join in the scheme or try to bring his friend to justice? Claire Trevor, George Macready, Ernest Borgnine, and Lee Marvin also star. 82 min. BW/Rtg: NR
The Nevadan (1950)
Randolph Scott stars as a marshal who teams with a robber to stop a nasty rancher from recovering $250,000 in stolen loot. As the unlikely pair tries to complete their shared mission and fight the bad guy and his gang, they must also square off against each other--resulting in plenty of thrills and action. Western winner co-stars Dorothy Malone, Forrest Tucker, Frank Faylen, George Macready. 81 min. C/Rtg: NR
8 1/2 hrs. total. Standard/Widescreen; Soundtrack: English.
| | |
| --- | --- |
| Studio: | Mill Creek |
| Number of Discs: | 2 |
| Release Date: | 4/5/2016 |
| | |
| --- | --- |
| Item #: | 1696363X |
| UPC #: | 683904544643 |
| SKU #: | D83497 |