Show results for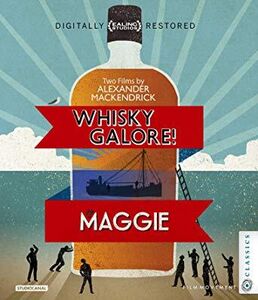 Two-disc set includes:
Whisky Galore! (1949)
From Ealing Studios comes this droll British comedy set during World War II on the Scottish island of Todday, where rationing forces the residents to cope without alcohol. That is, until a shipload of whiskey is stranded just off their shores. The islanders will now have to deal with by-the-book Home Guard official Captain Waggett (Basil Radford) as they try to stage a planned "rescue" run. Catherine Lacey, Bruce Seton, Joan Greenwood also star. AKA: "Tight Little Island." 82 min. BW/Rtg: NR
The Maggie (1954)
A rapscallious captain (Alex Mackenzie), who skippers his run-down boat the Maggie along the Scottish coast, hatches a scheme to make some fast cash when an American businessman (Paul Douglas) hires him to transport material to his new island home, in this Ealing nautical farce. James Copeland, Hubert Gregg also star. AKA: "High and Dry." 92 min. BW/Rtg: NR
Standard; Soundtrack: English.
| | |
| --- | --- |
| Item #: | 2269546X |
| UPC #: | 850003924519 |
| | |
| --- | --- |
| Street Date: | 3/10/2020 |
| Original Language: | ENG |
| Run Time: | 175 minutes |