Show results for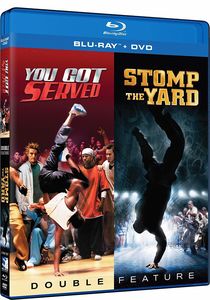 Two-disc set includes:
You Got Served (2004)
In this high-energy hip-hop drama, David (Omari Grandberry) and Elgin (Marques Houston) are close friends who head a Los Angeles dance team that faces competitors in contests run by a businessman (Steve Harvey). An upcoming face-off finds them going for $5,000, but when a member of the squad jumps to the other team and a riff develops between the two leaders because David is dating Elgin's sister, the future of the friendship and the team is threatened. With Jennifer Freeman. 95 min. C/Rtg: PG-13
Stomp The Yard (2007)
Arrested after getting mixed up in a violent shooting that left his brother dead, a hot-headed but talented L.A. street dancer agrees to go to Atlanta to live with his strict uncle in lieu of juvenile hall. In an effort to stay out of trouble, he enrolls in a local university where he--and his moves--are recruited by an underdog fraternity that needs him to win the national step-dancing competition. Columbus Short, Meagan Good, Ne-Yo, and Darrin Dewitt Henson star. 114 min. C/Rtg: PG-13
Widescreen; Soundtrack: English.
| | |
| --- | --- |
| Item #: | 2123568X |
| UPC #: | 683904633606 |